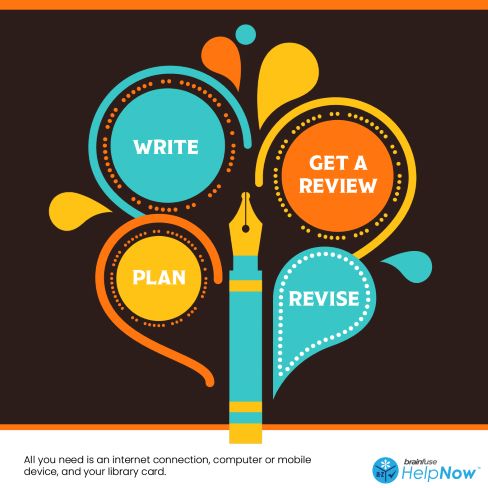 On-Demand, Anywhere Online Learning
Welcome to Brainfuse HelpNow: on-demand, anytime, anywhere eLearning for all ages and levels.
From college application essays to the SAT, school reports, and even creative writing, get free feedback on any type of writing. You can connect with a live tutor for immediate help or use the writing lab for thorough feedback.
Brainfuse HelpNow offers a personalized homework help in core subjects (math, reading, writing, science and social studies) including SAT preparation. The Adult Learning Center is included in the HelpNow suite.
How to access Brainfuse:
Brainfuse is currently available to all library patrons from the public computers at the Rodgers library, or from any computer with internet connection starting October 13, 2020, every day from 2 - 11pm.
Access Brainfuse by clicking here. (You can also find the link here and here.) NOTE: If accessing from inside the library, you will be taken directly to the Brainfuse dashboard. If accessing Brainfuse from home/outside the library, you will need your library card and/or PIN to access Brainfuse.
The link will allow you guest access to several of Brainfuse's features. In order to receive individual help (writing lab, tutorials) you will need to create an individual account. To create an account:

Click on LOGIN at the top right.
Follow the prompts to create a user name and password.
You can now access the site without having to go through the library website. (Bookmark the site for future reference.)
Click on the videos below to learn more about Brainfuse, and how it can help students of all ages.