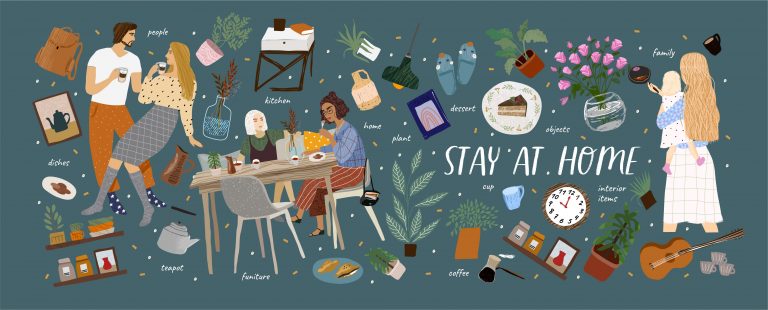 Click on any of the resources below for at-home, shelter-in-place fun and learning.
Check out our Rodgers resources! (You will need a library card and PIN for most of them.)
(Don't have a library card? No problem! Complete this library card application and a member of our library staff will contact you by the next business day with a library card and PIN!)
Access some of our #StayHome activities for adults and kids on our Rodger That! blog!
Lots of kid activities on our Children's Library Hedgehog Blog! For parents and kids both.
Subscribe to our YouTube channel and watch all our virtual storytimes!
Arts & Crafts
Have fun with online coloring!
Cams!
Go diving with the sea lions (National Marine Sanctuary)
Explore.org streams live footage of animals from all over the world, from African lions in South Africa's Tembe National Park to bald eagles' nests in Iowa.
Cooking
Join Liz Barbour, founder of the Creative Feast in Hollis, NH, on Facebook every Tuesday at 7pm for a LIVE cooking demonstration!
Re-create Julia Childs' most famous recipes, including Coq au Vin and Boeuf Bourgignon. 
Escape Rooms
Our library colleagues at the Hooksett Library have devised an ingenious virtual escape room for you to try. Good luck! 
Exercise and Movement
Stay in shape! Live stream exercise videos every day.
Free online yoga classes for every level.
Films
Documentary Heaven is your portal to all genres of non-fiction film.
Visit Top Documentary Films for award-winning documentaries.
Miscellaneous – or, Just for Fun
Need a haircut? Visit Elle, Good Housekeeping, or GQ for tips on how to cut your hair at home.
Learn American Sign Language and practice with each other.
Learn how to play chess! For kids and adults.
No better time to learn Morse code.
Got a smart phone? Learn to edit videos – right on your phone.
Our very own RML word search!
Puzzles!!!
Government puzzles - print and have fun!
The Wizarding World of Harry Potter – at home.
Make your own READ poster!
Learn about the Censusarus!
Our very own Word Search – (Children's Books)!
Museums (alphabetical by museum)
Boston Children's Museum
Resources for play and learning at home with the Boston Children's Museum. Or take a virtual tour!
Children's Museum of New Hampshire
Check out the museum's Online Learning & Fun for parents, caregivers and educators.
Currier Museum of Art
Listen to a book by beloved New Hampshire children's author Tomie DePaola. Create a collage landscape. So much to do when you visit Currier at Home.
Discovery Museum
Check out "Discovery Museum at Home," the museum's newest resource.
Intrepid Sea, Air and Space Museum
All online programs and digital content at the museum are now available for free!
The Louvre, Paris
Take a virtual tour of this world-renowned HUGE museum.  Get up close and say "ciao!" ("hi!" in Italian) to the Mona Lisa.
McAuliffe-Shepard Museum
Lots of planetary activities including Walking on the Moon Sand or Go Around the Sun (story time).
Metropolitan Museum of Art
Take a virtual tour of this national institution.
Museum of Fine Arts (MFA)
Tour the museum and visit its most popular galleries.
NASA (JPL at CalTech)
The National Aeronautic and Space Administration (NASA) Jet Propulsion Laboratory (JPL) at the California Institute of Technology has launched Teachable Moments, connecting homes with the latest discoveries about our universe.
National Air and Space Museum (D.C.)
Take a virtual tour of the museum, thanks to Google.
New England Aquarium
Feed the sharks! Watch the penguins! A virtual visit every day with the New England Aquarium!
New Hampshire Historical Society
Check out Moose on the Loose: Social Studies for Granite State Kids, geared to upper elementary school children. Adults and older children can listen to audio editions of Historical New Hampshire.
Peabody Essex Museum
Get creative at home with PEM! Spot the differences between the two paintings or make an origami polar bear – then share your creations on social media for all to ooh and aahh.
Salem Witch Museum
Take an online tour of the Witch Trials various sites in 1692 Massachusetts.
Music
A list of concerts to watch from the comfort of your own couch. List updated daily.
Teach yourself guitar!
Learn to drum – without drums. (No drum set required!)
Subscribe to Tiny Desk Concerts – and listen to your favorite bands unplugged in an intimate setting.
Create a Pots 'n' Pans band with the kiddos.
Online Learning
Take FREE college online classes on various subjects from renowned universities, including Dartmouth, Harvard, MIT, Boston University, Georgetown University (D.C.), Imperial College (London), The Sorbonne (Paris) and many more.
The Outdoors (but stay inside!)
Access the National Parks with a virtual tour.
STEM (Science, Technology, Engineering and Math) 
Track bears. Study vampire bats. Learn about black holes. Visit the American Museum of Natural History for virtual tours of their collection. The also have a science website especially for kids!
Be a backyard scientist and track the greening of your back yard this month.
No better time to learn how to code than now, free with code.org. For older kids and adults, learn how to program in Python.
How long does Coronavirus last on surfaces? This radioactive decay model uses pennies to model exponential decay, which applies to radioactivity as well as viruses.
Instructables! provides thousands of projects that range from the simple, like paper airplanes, yummy brownies or duct tape wallets.  Try searching terms like "projects for kids", "science projects" or "DIY" (Do It Yourself). (4/7)
Do Math with Skittles! Fractions, decimals and percentages.
Positive Parenting: Keep a moon journal this month, or grow a plant indoors!
4-H Chain Reaction Video Challenge – "Chain reaction family fun for the stay-at-home blues."
Quarantine Punk STEaM challenge – throughout your entire HOUSE.
Scientific American Education brings science home for kids of all ages. Simple activities everyone can do.
Theater
Subscribe to England's National Theatre YouTube channel and watch a free full-length play every Thursday.
Watch Lin-Manuel Miranda – writer and star of the Pulitzer- and Tony-winning musical "Hamilton" – and his friends surprise a young fan with a Zoom version of  Alexander Hamilton. (From John Krasinski's YouTube Channel SGN ("Some Good News").
Visit Shakespeare's Globe Theater and browse a range of activities – weekly blogs and other resources – that introduce the cast and crew behind a new production of "Macbeth," created especially for young audiences.