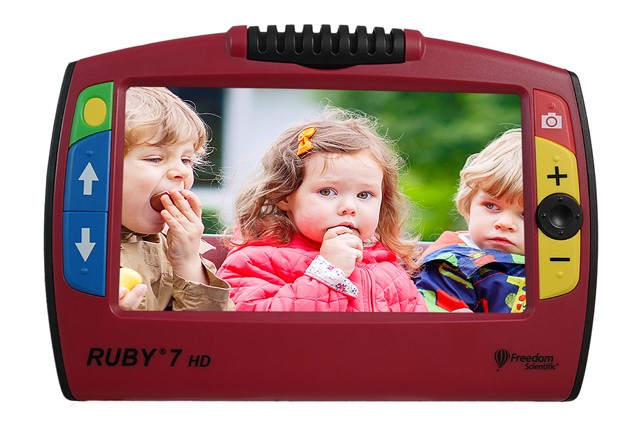 The all-new portable RUBY 7 HD from Freedom Scientific makes reading easier. The seven-inch screen can display more text, and magnifies materials up to 24 times. This ultra-portable device can go anywhere with ease. The RUBY 7 HD is easy to learn and to use. Use the built-in tilt stand to read books, magazines, and mail. The unique PivotCam™ camera offers a wide range of viewing modes for spotting, reading, writing, working on hobbies, distance viewing, and even a mirror-image self-view. The RUBY 7 HD combines convenience and flexibility as the leader in the next generation of handheld video magnifiers. 
Click here to view this device's specific information, its costs, and/or to place a hold.
---
Having problems using this device? Please call the library at 603-886-6030 and ask for the Reference Department, or visit the RUBY 7 HD users guide here. Visit the RUBY 7 HD website here.